ABOUT THE VEHICLE
Cube presents the ezero URGO Electric Utility Vehicle.
The ezero URGO Electric Utility Vehicle brings you an innovation that has much more to offer than any standard utility vehicle ever can. Not only does this vehicle meet all the criteria for being environmentally friendly and sustainable, but it is safe to drive. For the food industry, this electric vehicle will prove to be essential since it has zero fumes and thus zero contamination of the food production plant. The fact that there is no fuel consumption not only saves you on fuel costs, but also prevents the ezero URGO from being a fire safety hazard. Read on to find out more about this incredible Electric Utility Vehicle, and own yours today by contacting ezero here.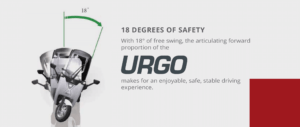 18 DEGREES OF SAFETY With 18° of free swing, the articulating forward proportion of the ezero URGO makes for an enjoyable, safe, stable driving experience.
Download the full ezero URGO Brochure here.
CUBE presents the ezero URGO – THE PIONEER OF SMART ELECTRIC UTILITY VEHICLE FOR MICRO COLD CHAIN AND LOGISTICS
Direct from your mobile phone you can manage and track your ezero URGO vehicle. The functions include:
DIAGNOSIS
Manual Diagnosis Check Battery / ECU / HMI / Connectivity Box / And all other electrical devices
KEY-LESS LOCKING & UNLOCKING
Manual locking and Unlocking of Whole eTricycle / Seat / Battery / Up to 7 possibilities
ENERGY MANAGEMENT
Battery & Charging Battery status (State of Health, Temp.) / Battery statistics (Cycles, Service Life), Remaining Mileage (different drive modes) Charging Timer / Charging Duration
ETRICYCLE / CUSTOMER INFO
Tricycle Matching / Commercials Matching via Barcode San Picture and Settings of Tricycle from cloud via phone to vehicle Possibility for customer to send commercials to the drivers
DRIVE STATISTICS
Tracking and Sharing Drive statistics for every ride / Daily / Weekly / Monthly statistics Average Speed, Max. Speed, Energy Consumption, etc. Route tracking for every ride / Share your eTricycle function Possibility to share this information in community or social networks.
FEATURES
BATTERY PACK
• A stable, reliable power battery provides a strong and abundant supply of power for the vehicle.
• Battery thermal management system (only for Li+ pack).
• Square aluminium shell (lithium iron phosphate, LiFePO).
CONTROLLER
• Advanced field-oriented control technology to improve noise and efficiency.
• The advanced power MOSFET tube low noise and high efficient energy conversion.
• The advanced vector control algorithm is adopted to realise the precise control of the motor's torque and speed.
• Brake or reverse energy system to enhance the vehicle's range.
• Halt function on the hills to improve safety (optional).
• The parameters can be adjusted to regulate the performance and meet the requirements of different road conditions and various use environments.
• Buzzer sounds for various faults.
• Easy to inspect and repair.
DRIVING MOTOR
• BSD DC brushless motor.
• Motor management and control system.
• More efficient energy utilization